Garmin Venu 2 Plus: The sports connected watch that manages calls and sending SMS
Connect your body and mind
Take care of your body and your mind through advanced health and fitness monitoring. You can also pass and receive calls to your wrist by coupling your watch to your compatible smartphone.
Your phone is still at the bottom of the bag? Make calls directly to your wrist when your smartphone is within range.
Answer your SMS on your watch with the voice wizard of your appared smartphone1.
Health & well-being functions give you a better idea of ​​what's going on inside your body.
Discover new ways to move with more than 25 integrated sports.
Store music from Dezer, Spotify or Amazon Music on the watch for listening without phone with your wireless headset.
A bright AMOLED screen and up to 9 days of autonomy, it tells you?
Your watch, your style
The AMOLED screen is ultra bright and high in color! Try permanently activated mode for the screen to not go out.
Designed for athletes
With its durable CORNING® GORILLA® GLASS 3, its elegant stainless steel bezel and comfortable silicone strap, this connected watch is ready to follow you in all circumstances.
Phone calls to your wrist
No need to search your bag or in your pockets to answer a call. When your watch is connected to your compatible smartphone, you can pass and take calls directly to your wrist.
Vocal assistant
Do you have busy hands? No problem. Use the voice wizard of your Coupled Smartphone (SIRI, Google Wizard, or Bixby) via your Venu® 2 more to answer SMS, ask questions and even control your compatible home automation devices.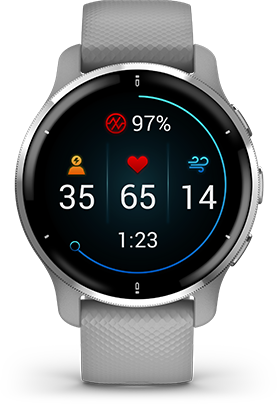 Health Snapshot ™ function (health preview)
Register, in a 2 minute session, key statistics such as heart rate, variability of your heart rate, spo2, breathing and stress level. You can then generate a report containing these statistics via the Garmin Connect ™ application on your compatible smartphone to share them.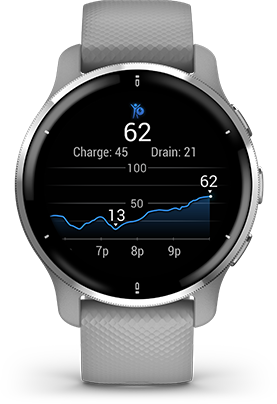 Body Battery ™ Energy Monitor
Measure your body's energy level. So you know when it's time to move or rest.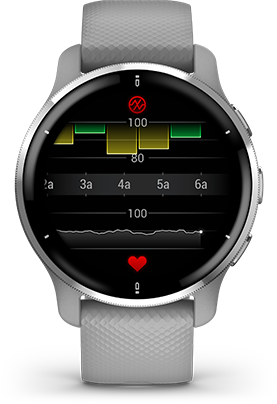 Pulse oximeter
Use the pulse oximeter to measure oxygen saturation of your blood at any time of the day or while you sleep to measure how much your body absorbs oxygen.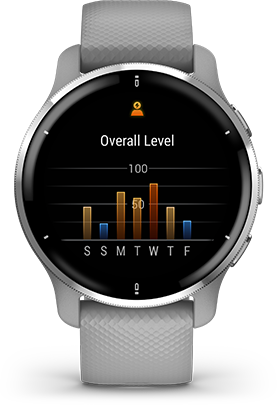 Stress monitoring
Find out if you spend a quiet, balanced or stressful day. Relaxing reminders even invite you to make a short breath activity when your watch detects that you are stressed.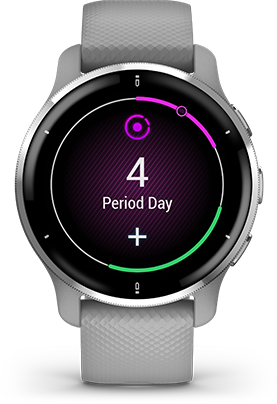 Monitoring of the menstrual cycle
Use the Garmin Connect app to track your menstrual cycle or pregnancy. Save the symptoms, receive training and power tips and more. You can even consult and record details on your watch through the female health monitoring application.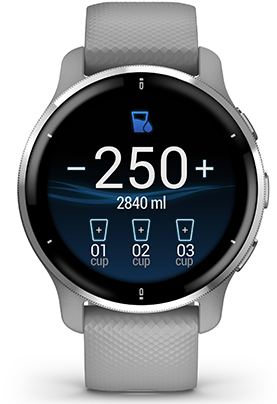 Follow-up of hydration
Enter your cash consumption every day to remind you of moisturizing yourself. You can even set an automatic hydration lens that adapts according to the amount of sweat you lose during your activities.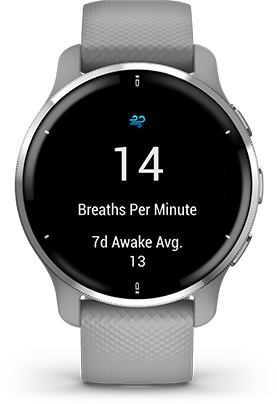 Followed by breathing
Consult your breathing data throughout the day, during your sleep and during yoga and breathing activities or during a session Overview.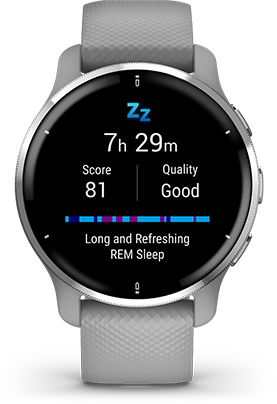 Sleep score and advanced sleep monitoring
Get a score on the quality of your sleep and information about how you can improve it directly on the watch. You can even follow the different phases of sleep, as well as heart rate, stress, spo2 and breathing.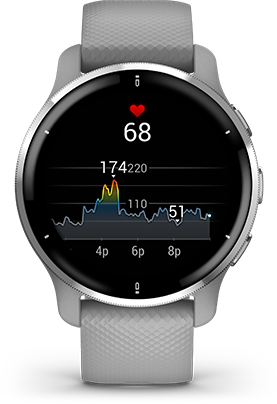 Wrist heart rate
The watch continuously measures your heart rate and warns you if it is too low or too high when you are at rest. This metric also helps you assess your efforts during your business, even while swimming.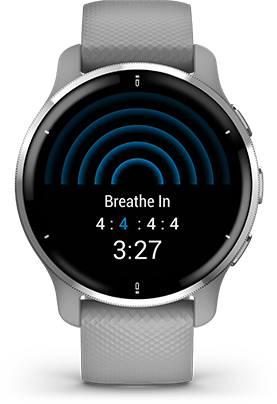 Conscious breathing
When you want to relax or focus you, you can start a breathing activity and this watch saves your stress data and your breathing to help you better understand how you breathe.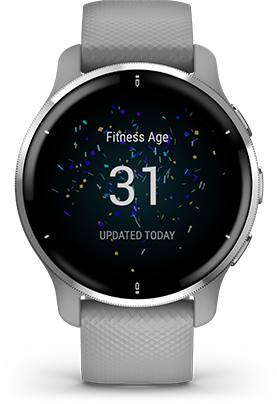 AGE FITNESS
This function uses the chronological age, your activities of the week, your resting heart rate and the BMI or the percentage of fat to estimate if your body is younger or older than you. And you can get tips to reduce your fitness age.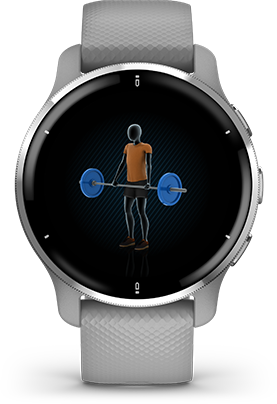 Free animated exercises on the screen
A wrist coach? Yes it's possible ! Animated cardio, bodybuilding, yoga, pilates and easy to follow are preloaded on the watch and you can download others from the Garmin Connect app.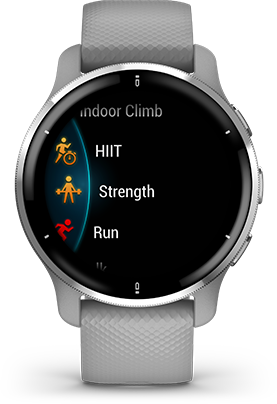 Multisports
Follow all your favorite activities with GPS and more than 25 interior or outdoor sports, including walking, running, golf, swimming pool, etc.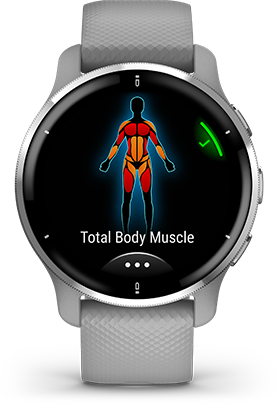 Advanced weight training program
This detailed activity profile indicates your personal bodybuilding and weight records to your wrist, and displays graphics that show which muscle groups you worked.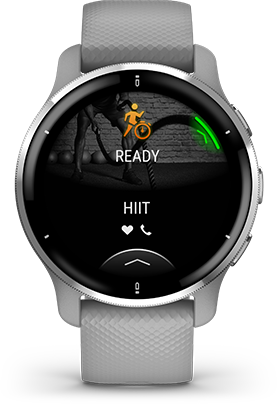 HIIT TRAINING
Use different countdown accounts to track your HIIT drives, including AMPRAP type drives (maximum turnover / potential repetitions), Emom (max repetition in the minute, every minute), Tabata and customized. Define the number of turns, the drive and rest intervals and more.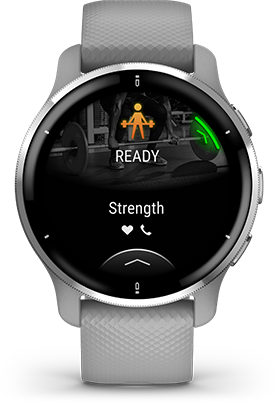 Create training
Choose from over 1,600 exercises to create your own workouts in the Garmin Connect app, and download them to your watch.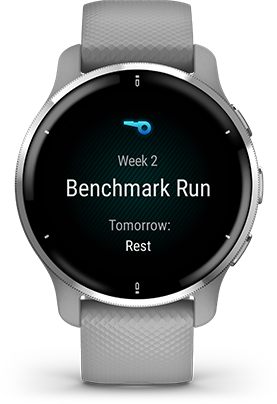 Garmin Coach
Enjoy free advice from a personal race coach from your wrist to help you train for your next 5 km, 10 km or semi-marathon.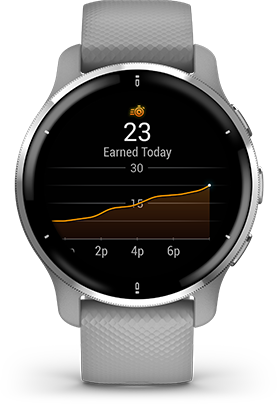 Intensive minutes
We have updated our intensive minutes function to give you a better idea of ​​the time of the day you have gained and the activity concerned. You can even display them as a data field during timed activities.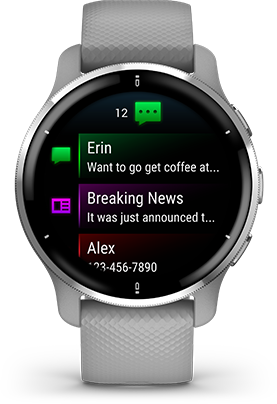 Smart Notifications
Receive e-mails, SMS and social networks alerts directly on your watch, when coupled with your compatible smartphone. You can even answer SMS if you have an Android ™ phone or otherwise, answer the oral via the voice wizard.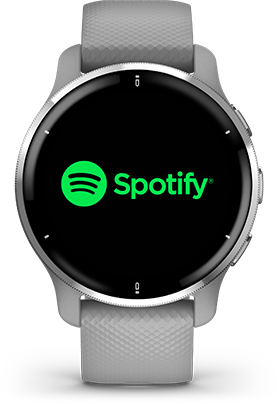 Music
Download songs and song lists from your Accounts Deezer, Spotify or Amazon Music (a subscription may be required). Use your wireless headset for listening without phone.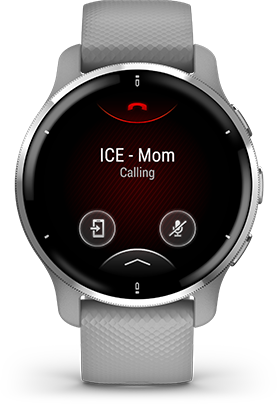 Monitoring and safety functions
If you need help, easily send a message with your real-time position to preselected contacts when your compatible watch and smartphone are coupled. You can even choose an emergency contact that your watch can call, such as local emergency services.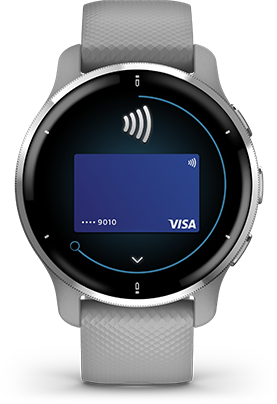 Contact payment with Garmin Pay ™
Pay with ease thanks to the contactless payment solution GARMIN PAY from the partner banks.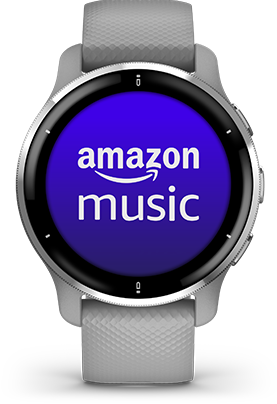 Connect IQ ™ Boutique
Add watch dials, data fields and applications to your coupled watch from the Connect IQ Store application on your compatible smartphone.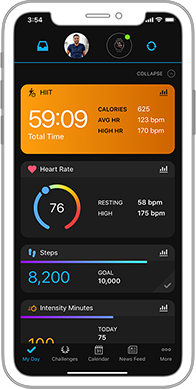 Synchronization with Garmin Connect
With the Garmin Connect app, you can view your health and fitness information in the same place. You can also interact with an active online community that allows users to connect during their travels, compete and share.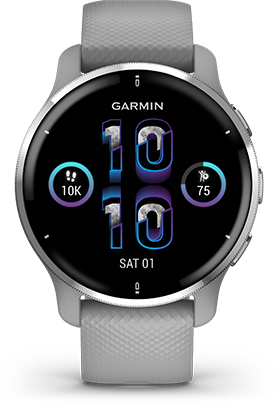 Battery life with quick recharge
Get an overview of your health status with up to 9 days in connected watch mode, up to 24 hours in GPS mode and up to 8 hours in GPS mode with music. Ten minutes of recharge for 1 day of autonomy in connected watch mode or 1 hour in GPS mode with music.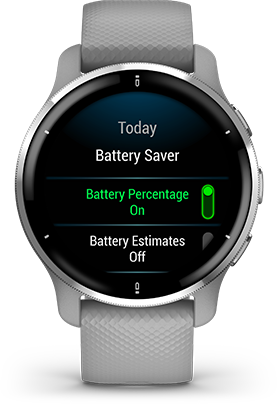 Energy saving mode
Enjoy your connected watch even longer by activating and deactivating this setting to optimize battery life.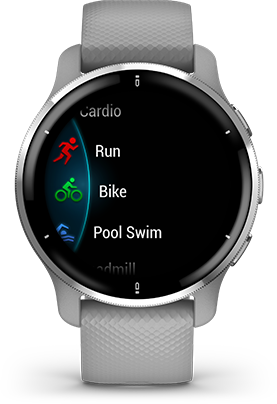 Resistance to water
This watch is watertight 5 ATM ideal for your swimming sessions, in the shower and even at the spa.
---